The new U.S. $20 dollar bill contains hidden pictures of the World Trade Center and Pentagon attacks!
Step 1: FOLD A NEW $20 BILL THIS WAY

Step 2: CONTINUE TO FOLD THIS WAY

Step 3: FOLD THE RIGHT SIDE UNDER,
exactly as you folded the left side.
You'll immediately see the Pentagon ablaze!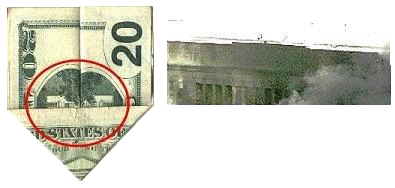 Step 4: NOW FLIP IT OVER AND SEE OTHER SIDE
The Twin Towers of the World Trade Center are hit and smoking.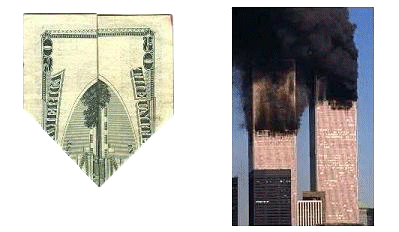 More Odd Stuff
9 + 11 = 20

With just 2 more folds your $20 bill turns into a airplane!

On the "Pentagon" side, the folded bill has FIVE sides like the Pentagon

On the "WTC" side, you will notice the word AMERICA(N) is on one side and the word UNITED is on the other side - the two airlines that crashed into the WTC.