Don't worry! there are a bunch of pictures and fewer words, coming up shortly. Hang on just a little bit longer! This next part is GREAT!
You may have noticed that row of ?'s and
's above. I had to put in something, just in case my Mom came to visit my site. See, nearly all of my family has their birthdays between the middle of February and the end of March. No one had given my Mom a party on her 50th birthday (Mar 9th), so they decided on a Surprise Party here on her 60th birthday. And what better way to surprise her besides a party? Make sure the oldest, out-of-state-living son is there! WooHoo!
Within a two week time, we found a ticket for a trip through Chicago to Charlotte and got me home.
Click below for the pictures from my Surprise Trip home!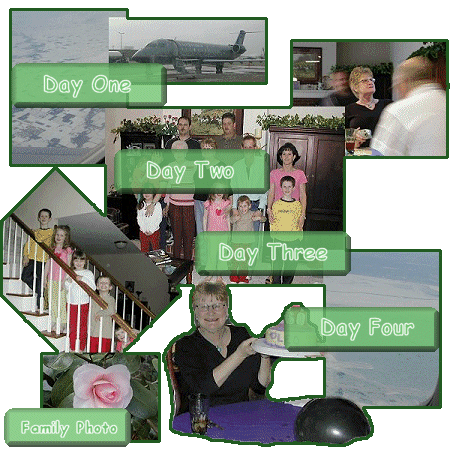 But, the week wasn't over yet. I got back in town to find that my boss had been looking for me. It seems his girlfriend (whom may have recently moved in with him) had trashed his laptop that I had just tweaked-up last week. I spent from 9:30 to 6:00 pm working on my first day back in town! After I promised myself, just before the trip, that I would slow down. I've really got to watch this or I'll end up sick by the summer.

Here are where all the big problems arise though. First, I detest the boss' girlfriend.

(Don't worry. I don't tell him about this website. LOL So, this next part shouldn't get me in trouble. LOL) This past summer (July, 2002), my boss had asked me to build a website for her company. Within an incredibly short time, I had a demo going; but without much flare yet. Unfortunately, they both couldn't get past that point (as I have found happens with many people). Rather than tell me directly, she lied and blew me off. I haven't been fond of her since, to say the least. Now she's moved here and although I have no intention of helping her again, my boss is beginning to expect it from me.
So, now I find that although I was a busy, mildly-dissatisfied employee before my trip, afterwards I am about to have some sort on confrontation with the boss, and probably quit working for the auto group.

But, it is NOT all gloom and doom. I'm feeling great since the trip (happy, but tired) and have a couple of amazing opportunities in front of me. If you've been following along through this month, you'll know that I've been pretty busy with the body shop. Having talked with the owner (who HAD (as in past tense) been a friend of my boss), I'm nearly assured a position with his company as they began their big "project". (I still can't spill all the beans yet. It's a surprise! and I've been full of those this month. LOL) I think that opportunity is once again knocking at my door, so I'm thinking I better answer.
There's also a little topper to it all. If I do quit working for Waikem Auto Group (they did fire Jim and throw out my newsletter!), not only will I have a good position with Expert Auto Body; but they've been bragging up my performance to the local CarpetTime dealer, who is also interested in some computer check-ups and a website too! WooHoo! Now although my new loyalties belong to Expert Auto, a little cash on the side could just mean another plane trip home!!
Just think - it's not even my birthday yet, in the middle of the month, and a ton of stuff has happened! Oh! Did I forget to mention that the most awesome cell phones (Nokia 7210) have been ordered and just might (cross your fingers for me!) arrive on my birthday Friday!! And when the Auto Body shop gets their new computers (maybe the first of next week), I'll be getting an upgrade too! Can I get a BIG WOOHOO!?!? WooHoo!
---
| | |
| --- | --- |
| Before I tell you about my birthday, I found this picture from the first of the month. At first glance, you can see that it's simply one of my silly puppies (Aries) chomping on some snow (inside the house!). What you don't see is how he got that snowball. Twice now, I have watched while Aries scooped with his paw, while stepping backwards, to roll a lump of snow into an actual snowball!! | |
Happy 41st Birthday, mIkIE!
Scans of this year's B-day cards

MouseOver each to see the salutations!!

from Gayle

from Jim

from Ruth and Loretta

from GrandMother

from Mom and Dennis

from the "kidz"

another one from Gayle

from Paula Waikem
This last card is actually a late Christmas card!
| | |
| --- | --- |
| | Do got me this very cool fiber optic dragon. The colors swirl across his unfurling wings. It really is beautiful in action. |
---
Boy, I've felt like I aged more than just one more year. Twice this week, I have been scared and surely lost a couple of more years. LOL First, after I had parked in front of DO's house, I was about to get out of my car. Suddenly, there was a man standing right there staring in at me!!! It turns out that DO's son-in-law had been working on the van that I parked in front of. I hadn't seen him get out and walk over until I looked at the window. Whew!! I know I suddenly turned 43 right then! ROFL

But that wasn't the only scare I had this weekend. I awoke on Sunday morning, and stumbled downstairs to let the dogs out first thing. After a quick sip of water at the kitchen sink, I headed to the bathroom. As I walked in, I lost another couple of years, as a black bird swooped out of my shower and past my head! Now I'm at least 45!! What is it with birds in my house?!? It was just last June (2002), that I had three birds in my house on the same day.


MouseOver
to "watch the birdie"
Still no cell phone or computer/laptop yet,
and I haven't quit Waikems yet;
but the month is long
and there's still half of it left. LOL
Stay Tuned for More!!