(1999 - 2013)
---
Additional Pix of Joxer and Family
| | |
| --- | --- |
| | When I was down to only three dogs (and with EightBall not doing do well), it was time to find another puppy. What color and what sex, I hadn't decided; I'd know when I found it though. Even though I have been quite upset losing so many of my kids in such a short time and still unsure of my own health, I was anxious to bring some life into the house with a new pup. |
| | |
| --- | --- |
| Since I was unsure as to getting another dog, Life stepped in and solved the problem for me. Gabby's father, George, has sired several litters over the years with the most recent litter this July. By the time, I had thought about getting another pup, all the dogs in that litter had been sold. However, the breeder's daughter, who took one of the pups, is moving and won't be able to keep the dog she chose. Of course, I was top on the list of people to check with since they wanted to ensure that the pup ended up in a good home - and who could offer the pup a better home than me, his grandma, uncle, and half-sister!?! | |
| | |
| --- | --- |
| | Joxer was now the newest of the Reign family. Although Goobie wasn't happy that he was not the only boy in the house, Gabby was happy that her brother has arrived. She always wanted a playmate and, boy, did she get one. Joxer is quite a goof (and as big as his great-grandmother, Apple) but incredibly loveable. |
As Joxer has moved into his older age, he's developed a few problems; but nothing he couldn't handle. He has slowly been losing his eyesight. Although, just like Gabby without her fourth leg though, this infirmity didn't slow him down at all. Sure he bumped into a few walls; but that didn't stop him. He has stayed active - and incredibly happy! For a while he had some mild cognitive issues, basically from not eating enough and having low blood sugar.
It was until the very end that Joxer really had any health issue. One day I noticed that while his brothers had come inside, Joxie was still outside. Now that wasn't too strange as sometimes Joxer just liked being outside and exploring the yard. However, I checked on him and saw that he was just lying in a pile of leaves. When I went out to him, I saw that he was trembling quite a bit, unable to stand, and splayed out. I picked him up and by the time I carried him back inside, he seemed to be back to his old self. I wondered though if he hadn't had a mild stroke as he did seem more "dazed" than usual.
About a week and a half later, I was jolted awake by some sounds. I could hear someone banging into the closet door and the sounds of what could have been one of the dogs throwing up. Turning on the light, I saw Joxer was unconscious and trembling uncontrollably, with one leg kicking into the door, lying on his side drooling and gagging. I thought Joxer was probably going to die right there in my arms; but 20 minutes or so later, he came too. However, things weren't right. He began to pace the room and wouldn't stop. Eventually, I grabbed a pillow and blanket and laid down on the floor, holding him tightly so that he would not get back up and walk around. Needless to say I didn't get much sleep as every time I dozed off and loosened my grip, Joxer would get up and walk around the room in a daze.
The next morning (1/24/13), for the ninth time with one of my cockers, I made the decision and went to the vet. Joxer was still very unaware of his surrounding but very restless as Mom drove us over. However, he immediately quieted down once we got into the exam room. As he laid there very quietly but still uncomprehending of anything around him, I knew I made the right decision. With one last kiss from him, I held Joxer tightly as he slipped into a deep sleep. I could feel the exact moment when Joxie left me and moved on to be with Jim and Gabby.
Looking back at the life of Joxer, I am so thankful he was in my life. He, like so many from this line, was a very happy dog and lived a life many of us could envy. I'm sure glad "Pool Dog" was with me for nearly 15 happy years.
---
---
2002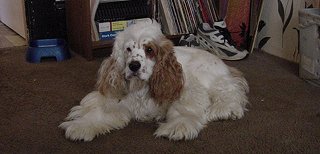 ---
2003
Joxie LOVES frisbees!
---
2004
Before/After a Haircut
---

2006
Pool Dog!

Multiple Joxies!!
A Lap-Full!
---
2007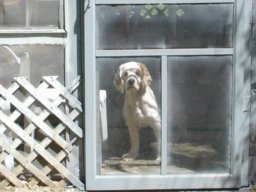 ---
2009
---
2010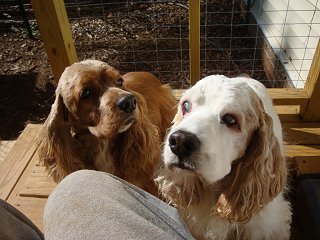 Zeus and Joxie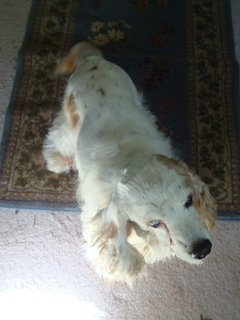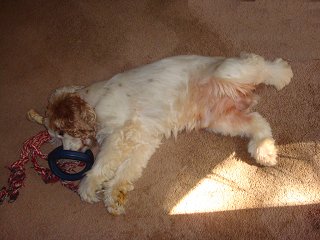 Older doggies sleep a lot!
All the boys sleeping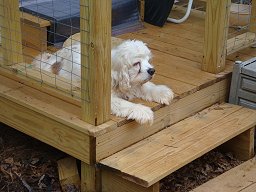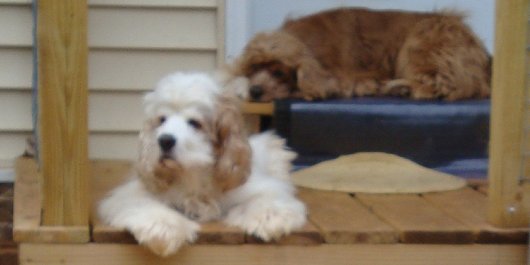 Hanging out on the porch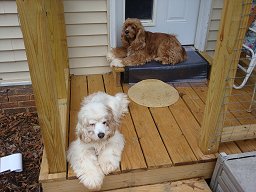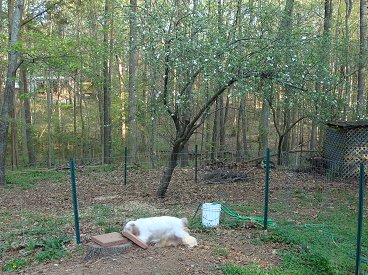 Scoping out the back yard after I fenced in a new section.
---
2011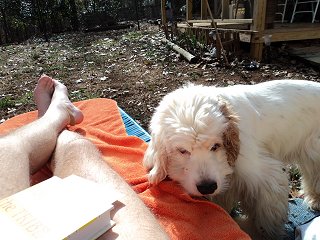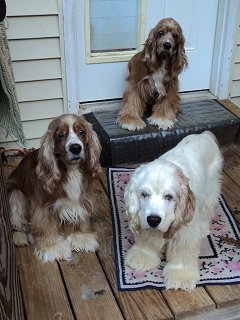 My Boyz!
Aries, Zeuz, Joxer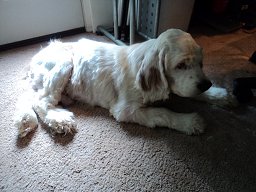 Being a silly dog rolling around on the couch
---
2012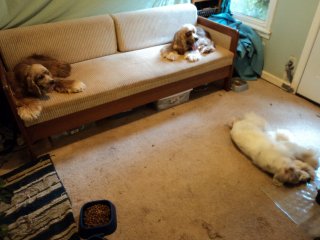 All the boyz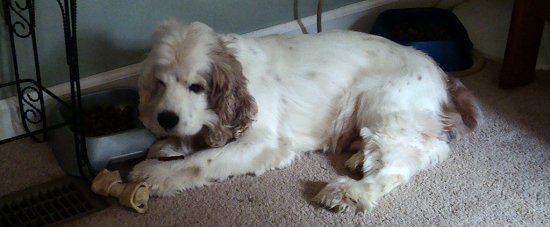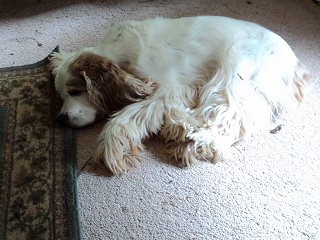 Losing his eyesight but still a happy dog!